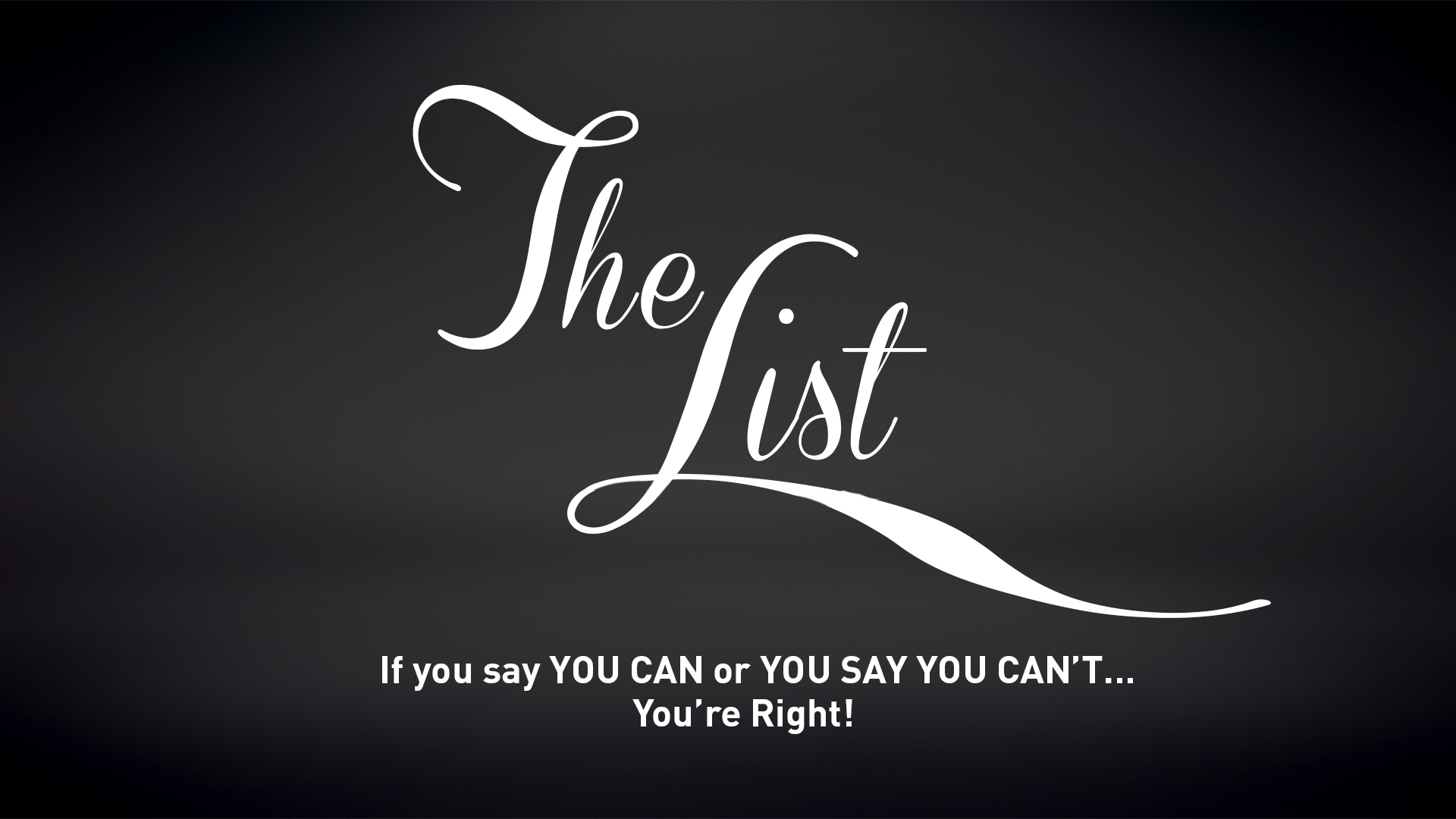 "The List" is where you start the journey to Own Your Life. 
Success with DDPY comes with consistent action and an unstoppable positive attitude. Starting your journey with "The List" will help you achieve both while building a mindset and commitment that lasts for the long haul. 
Remember, this list is for you, so own it just like you're going to Own Your Life!
1.  Write down your "Why?".
Why did you decide to start DDPY and Own Your Life? Write it down and keep your "Why?" close so you can read it every time your commitment needs a spark. There's no better way to give yourself a kick in the pants than remembering the most important reason you committed to a healthier life.
2. Write out your SMACKdown goals. Don't just think it, INK IT!
Whatever your goals may be, write them out and hold yourself accountable. Just think SMACK! Make sure your goals are Specific, Measurable, Realistic, and Achievable, then Keep going! Start with your "Why?" and list out everything you want to achieve on your DDPY journey. 
3.  Join the member's only group on Facebook.
This private Facebook group is managed entirely by DDPY fans who have created a private, "no judgment zone" that supports you no matter where you are on your journey. You'll find incredible stories, inspiration, and a great support system from the group's almost sixty thousand members! Get engaged with the DDPY community. THIS COMMUNITY WILL HELP YOU!
4. Use the DDPY Now APP.
Working out with our DVDs is a great choice, but we really recommend using the DDPY Now APP. The APP will always be with you, so you'll never miss an opportunity. You'll find constant inspiration and new content like cooking shows that will help you along the way. The APP also lets you track your progress and even links to a Bluetooth heart rate monitor to help you get the most out of your workouts.
First things to do in the DDPY Now APP:
Go through the "User Guide" content first to start on the right foot!
Take six pictures of yourself as shown on the DDPY APP
Record Starting weight, Current weight & Goal weight
Take measurements as instructed
Record your Pain levels
5. Document Your Journey! Seriously it's huge!
Documenting your journey from start to finish is one of the most important things you can do for yourself. Looking back at where you came from is powerful motivation to maintain healthy fitness and nutrition habits for the rest of your life. 
Take photos and videos of yourself at every stage of your journey. Share with the DDPY community for support and encouragement or keep them for personal inspiration. If you don't document your journey, you WILL wish you had!
6. Read "Positively Unstoppable. The Art of Owning It."
Dallas' book is a perfect starting point for your DDPY journey. If you're not ready to run through a brick wall to Own Your Life after this read, check your pulse!
7. Watch DDP's "Living Life at 90%" lecture.
Be sure to add a comment (DDP loves to check those comments) and watch the "Living Life at 90%" video whenever you need inspiration.
8. Watch the DDP/DDPY Story; "Relentless."
Watch our Relentless documentary, and you'll see how hard work and dedication can create possible out of impossible. We also recommend you watch Resurrection of Jake the Snake. Both of these documentaries will take you inside the heart of DDPY and spark a deeper commitment to Own Your Life! 
9. Watch these DDPY success stories. Find yourself in these stories and be inspired!
Nothing's more powerful than seeing DDPY work for people just like you. We've selected a few stories here, but you'll find many more online. Watch them whenever you need a spark!
10. Watch these movies to help you understand the importance of nutrition.
These movies cover some of Dallas' most important nutrition-related issues that affect the body's ability to heal and perform.